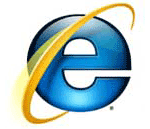 The security option of Internet Explorer 7 will be significantly in??reased TGDaily says:
"Microsoft's Internet Explorer will get significant security improvements with the upcoming IE 7.0 version. In recent months, millions of Internet users have switched to alternative browsers, like Firefox, because of security concerns with IE. Microsoft hopes to lure those people back with a newly designed browser that will have protected mode, phishing filters and even tabbed browsing.
IE7 is currently only available to developers in a Community Technology Preview (CTP). The browser's new protected mode will run IE7 with lower privileges than the main operating system and the browser can only access and write to browser specific files. A "broker" process will provide communication if the browser needs to save regular files. This feature is not currently available with this preview build of IE7, but will show up with Windows Vista reaches beta 2 status.
"
There will be several improvements to protect users against phishing, false URL redirection and suspicious SSL certificates. The browser will compare a web site address to a list of previously visited sites in the computer. In addition, sites will be analyzed for phishing characteristics and checked against a Microsoft maintained list of known fraudulent web sites. A pop-up window with a red border will be displayed when the browser thinks you are on a phishing site.
A new shrink to fit printing and the combination stop/refresh button will be added. Web page printing has usually been a hit or miss affair and large pages can be cut off at the bottom or the sides. The new browser will scale the text down to fit the webpage on the printed page. A combined stop and refresh button saves valuable toolbar space.
Firefox users will experience a bit of 'déjà vu' as IE7 will a feature that Firexfox has had for a while. IE7 will finally get tabbed browsing. With regular web browsing every opened web page will be in its own window. Even with the large monitors of today, users have to either manually navigate to each window or use Alt-Tab. IE7's tabbed browsing will contains all the opened web pages into a single window pane.
"