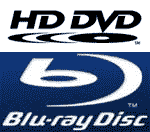 Working to make up some lost ground after last week's news of the first evidence of blue laser diode shortages, HD DVD's principal steward Toshiba announced this morning it will be jointly proposing with disc manufacturer Memory-Tech the first triple-layer DVD.

According to Toshiba, the new specification will include one layer devoted to HD DVD, a second to DVD, and a third layer which can be apportioned to either format, enabling dual-layer HD DVD (30 GB) or dual-layer DVD-9 (8.5 GB).

It will be a tricky proposition to make, and the final technical details have yet to be presented to the DVD Forum, which steers development for both formats. Today's dual-layer discs actually do contain three layers; while we pay more attention to the two recordable layers, the third typically provides the all-important, resilient substrate.

Twin format HD DVD/DVD discs do exist today, but with a single 15 GB HD DVD layer on one side, and a single 4.7 GB DVD layer on the opposite, bound to the substrate in the middle.

Based on preliminary information from Memory-Tech released in December 2004, it and Toshiba had planned to use an extremely thin bonding substrate layer to combine two dual-layer discs. Already, substrates had to be reduced in thickness to 0.1 mm or below to support two layers that, once bonded, just exceed the 1.2 mm guidelines.

Although not specifically detailed by either company, the thickness of the four-layer Twin format would probably just exceed 1.3 mm, since 0.3 mm per layer is required to enable enough depth for both red and blue lasers to distinguish between signals.

By apparently eliminating one of these layers, and letting the customer decide which one, the two companies appear to have come across a "hybrid hybrid" solution, if you will. The resulting triple layer disc will keep the final thickness at 1.2 mm or below.

Blu-ray faced similar challenges in maximizing the capacity of its blue-laser based format. The first Blu-ray Disc prototypes two years ago required protective cartridges, because chemicals necessary for the substrates Sony and Toshiba now require, had not yet been invented.

A small-print notice appearing toward the bottom of the specifications sheet for Toshiba's HD-A1 HD DVD player now conspicuously reads, "Some Twin Format Discs may not be compatible with all players."

Although it may take several more months for the new format to be formally adopted by the DVD Forum, and more months afterwards for manufacturers to retool, some customers may find themselves upgrading their HD DVD player's system firmware to accommodate the dual-layer DVD-9 format. The HD-A1 and HD-XA1 currently support double-sided DVD-RAM, but Toshiba does not list DVD-9 by name for video playback.