Nvidia today officially announced the release of another GPU for the manistream market, the GeForce GT 430.
The GeForce GT 430 is the first mainstream Fermi GPU for the PC using the same Fermi architecture in the GTS 450, GTX 460, GTX470 and GTX 480. The Fermi architecture was designed to run next generation DX11 titles and Blu-Ray 3D.
The GeForce GT 430 is considered as the replacement of the GTS 240 GPU. The 40nm GPU is clocked at 700MHz, comes with 96 Cude cores 2GB ddr3 memory running at 1333 Mhz and a 128-bit memory interface. The result is a memory bandwidth of 28.8 GB/sec and a Texture Fill Rate of 5.6 billion/sec.
GeForce GT 430 is specifically designed to power today?s digital media PCs, providing enough power for photo and video editing, Blu-ray 3D, mainstream gaming, and the next generation of GPU-accelerated Web browsers. The card also supports CUDA Technology, PhysX technology and comes equipped with an HDMI 1.4 output.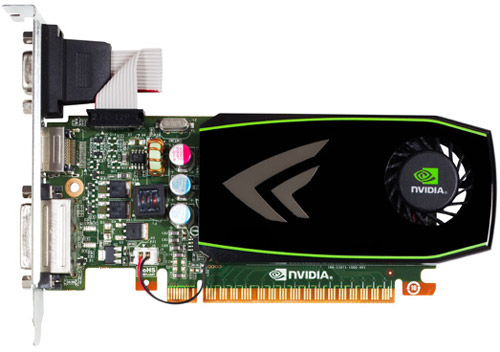 Nvidia claims that compared to the GT240, the new GT430 scores approximately 1200 points higher in the Vantage (Pro ) benchmark and also is more powerfull in popular games such as "Crysis" and "Lost Planet."
Nvidia's partners including Asus, Inno3D, Gigabyte and more are expected to release their GT430-based solutions today.
New Release 260 Driver
Nvidia also today released the second driver from its new Release 260 family of drivers. This newest version of Release 260 adds support for the new Fermi-based GeForce GT 430 GPU. Version 260.89 also includes several bug fixes from the earlier beta release and adds SLI support for some of the latest PC gaming titles including Dead Rising 2 and City of Heroes: Going Rogue.
The new version 260.89 can be downloaded here.
Source: CDRINFO