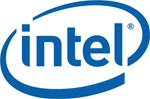 Intel today launched a barrage of new products for the data center, tackling almost every enterprise workload out there. The company's diverse range of products highlights how today's data center is more than just processors, with network controllers, customizable FPGAs, and edge device processors all part of the offering.
The star of the show is the new Cascade Lake Xeons. These were first announced last November, and at the time a dual-die chip with 48 cores, 96 threads, and 12 DDR4 2933 memory channels was going to be the top spec part. But Intel has gone even further than initially planned with the new Xeon Platinum 9200 range: the top-spec part, the Platinum 9282, pairs two 28 core dies for a total of 56 cores and 112 threads. It has a base frequency of 2.6GHz, a 3.8GHz turbo, 77MB of level 3 cache, 40 lanes of PCIe 3.0 expansion, and a 400W power draw.
The new dual die chips are dubbed "Advanced Performance" (AP) and slot in above the Xeon SP ("Scalable Processor") range. They'll be supported in two socket configurations for a total of four dies, 24 memory channels, and 112 cores/224 threads. Intel does not plan to sell these as bare chips; instead, the company is going to sell motherboard-plus-processor packages to OEMs. The OEMs are then responsible for adding liquid or air cooling, deciding how densely they want to pack the motherboards, and so on. As such, there's no price for these chips, though we imagine it'll be somewhere north of "expensive."
As well as these new AP parts, Intel is offering a full refresh of the Xeon SP line. The full Cascade Lake SP range includes some 60 different variations, offering different combinations of core count, frequency, level 3 cache, power dissipation, and socket count. At the top end is the Xeon Platinum 8280, 8280M, and 8280L. All three of these have the same basic parameters: 28 cores/56 threads, 2.7/4.0GHz base/turbo, 38.5MB L3, and 205W power. They differ in the amount of memory they support: the bare 8280 supports 1.5TB, the M bumps that up to 2TB, and the L goes up to 4.5TB. The base model comes in at $10,009, with the high memory variants costing more still.
Across the full range, a number of other suffixes pop up, too; N, V, and S are aimed at specific workloads (Networking, Virtualization, and Search, respectively), and T is designed for long-life/reduce-thermal loads. Finally, a few models have a Y suffix. This denotes that they have a feature called "speed select," which allows applications to be pinned to the cores with the best thermal headroom and highest-possible clock speeds.