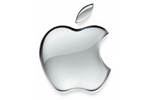 Despite warnings to the contrary, Apple posted fairly impressive quarterly revenue on Wednesday, including stronger than expected iPod sales and Mac sales that increased at a rate faster than that of the broader PC market reports BetaNews.
For the fiscal third quarter, Apple posted $4.37 billion in revenue, up from $3.52 billion in the year-ago quarter but slightly lower than the average estimate of $4.4 billion from analysts polled by Thompson Financial. However, what should catch the eye of investors is Apple's profitability -- up 48 percent to $472 million on 54 cents a share.
Apple's stock has taken quite a hit in recent months, falling from a high of $86.40 in mid-January to a low of $51 at the end of trading last week. Much of the slide has been due to a litany of warnings from analysts. Many said that the company would have trouble selling iPods and revenue would disappoint.
But the fears did not materialize, and the stock has since responded appropriately, jumping $4.60 or 8.5 percent in after hours trading Wednesday to $58.70.
By the numbers, Apple sold 8,111,000 iPods during the quarter, about 400,000 shy of last quarter's numbers, but still a 32 percent growth year-over-year. Mac sales grew slightly quarter-to-quarter, up about 200,000 units to 1.327 million computers and 12 percent year over year.