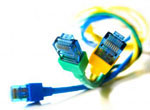 New speed record of transferring digital data was set up by scientists.
"An international team of scientists and engineers for the third consecutive year has smashed the network speed record, moving data along at an average rate of 100 gigabits per second (Gbps) for several hours at a time. A rate of 100 Gbps is sufficient for transmitting five feature-length DVD movies on the Internet from one location to another in a single second.
The winning "High-Energy Physics" team is made up of physicists, computer scientists, and network engineers led by the California Institute of Technology, the Stanford Linear Accelerator Center (SLAC), Fermilab, CERN, and the University of Michigan and partners at the University of Florida, Vanderbilt, and the Brookhaven National Lab, as well as international participants from the UK (University of Manchester and UKLight), Brazil (Rio de Janeiro State University, UERJ, and the State Universities of São Paulo, USP and UNESP), Korea (Kyungpook National University, KISTI) and Japan (the KEK Laboratory in Tsukuba), who joined forces to set a new world record for data transfer, capturing first prize at the Supercomputing 2005 (SC|05) Bandwidth Challenge (BWC).
The HEP team's demonstration of "Distributed TeraByte Particle Physics Data Sample Analysis" achieved a peak throughput of 151 Gbps and an official mark of 131.6 Gbps measured by the BWC judges on 17 of the 22 optical fiber links used by the team, beating their previous mark for peak throughput of 101 Gbps by 50 percent. In addition to the impressive transfer rate for DVD movies, the new record data transfer speed is also equivalent to serving 10,000 MPEG2 HDTV movies simultaneously in real time, or transmitting all of the printed content of the Library of Congress in 10 minutes.
The team sustained average data rates above the 100 Gbps level for several hours for the first time, and transferred a total of 475 terabytes of physics data among the team's sites throughout the U.S. and overseas within 24 hours. The extraordinary data transport rates were made possible in part through the use of the FAST TCP protocol developed by Associate Professor of Computer Science and Electrical Engineering Steven Low and his Caltech Netlab team, as well as new data transport applications developed at SLAC and Fermilab and an optimized Linux kernel developed at Michigan.
Professor of Physics Harvey Newman of Caltech, head of the HEP team and US CMS Collaboration Board Chair, who originated the LHC Data Grid Hierarchy concept, said, "This demonstration allowed us to preview the globally distributed Grid system of more than 100 laboratory and university-based computing facilities that is now being developed in the U.S., Latin America, and Europe in preparation for the next generation of high-energy physics experiments at CERN's Large Hadron Collider (LHC) that will begin operation in 2007."